Some 100 million Europeans are said to suffer from excessive noise levels linked to human activity, construction noise, and loud machinery. Noise pollution and overheating ranks fifth among environmental concerns, after air pollution and traffic problems. The key element of eliminating noise pollution is the directive establishment of end-to-end solutions that will decrease distractions, offer optimum acoustic ventilation, and reduce noise pollution as a whole. Is your building exposed to noise pollution? If so, TEK provides end-to-end solutions that can eliminate noise pollution and greatly reduce the ongoing issue for all.
There are more and more studies demonstrating the harmful effects of the impact of noise pollution and overheating. 75 dB noise pollution has been shown to harm people's health in the short and long term. Excessive noise disrupts the cognitive abilities of industry professionals, interrupting their lucidity which could impact their concentration and performance levels. This is why it is vital to invest in impeccable engineering that will remove this issue across all areas, to promote a healthier workplace and/or home. Poor acoustics are greatly debilitating across personal and professional circumstances. In 1999 the WHO (World Health Organisation) released guidelines for community noise and today the solutions must continue.
Residents are constantly battling between comfort and the need to keep outside noise out, if they keep their windows closed to keep the noise out, then this leads to overheating in their dwelling, leading to discomfort, the possible buildup of Co2, and a gathering of all other health issues.
End-To-End Solutions for buildings exposed to noise pollution and overheating
Solutions to diminish the noise restricting business
TEK was first established in 1978, when our work began in the field of ventilation solutions, and providing numerous products within the construction industry. Following great success, this allowed us to branch into the area of pioneering products that minimise noise, and contribute to a healthier environment. These can be implemented during construction or in a pre-established building. There are already regulations and laws in place, but oftentimes, the problem is still ongoing, and therefore the implementation of added products is vital and a worthwhile investment; not only adding value to your property but maintaining adequate levels of noise. Beyond the strict regulatory aspect, reducing the annoyance linked to noise requires action on all areas, from natural ventilation which utilises acoustic wall vents, to minimise noise from these systems greatly. Natural ventilation is of utmost importance on occupants health, and well being, given the modern climate. With areas to place residential builds becoming so short, residential buildings are being built in differing spaces, some of which may be near factories, industry, built-up areas, railway lines and near motorways in the countryside. Noise pollution is a bigger problem than it ever has been before and is only increasing. By utilising TEKs Natural Ventilation Residential range it can tackle both the noise and overheating issue. Our units allow the end-user to open the unit to allow fresh air to circulate whilst providing specified acoustic properties to minimise noise ingress.
We have designed and developed our range by employing the findings of the latest research available on the subject, the fact that there is already a lot of research available which is being added to constantly showcases what a grave concern this is. The research all points to the fact that good air quality can make all the difference.
The AVO Guide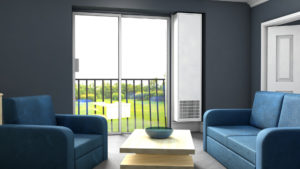 The AVO Guide was implemented to provide professionals and acousticians engaged in planning new dwellings with additional guidance and recommendations considering the latest standards, practices and regulations. Using the AVO Guide, professionals can gain a new but robust knowledge on how to best approach acoustic assessments for residential developments and how to implement products that combine well with the latest regulations in relation to ventilation, noise pollution and overheating.
TM59
TM59 is a type of design methodology approach, designed specifically to target overheating in high-risk residential areas and homes. Climate change is having a huge impact on world and in residential dwellings, with the temperatures soaring and heatwaves becoming more frequent occupants are seeing higher temperatures in their homes.
There are many factors that contribute to overheating which are down to design trends and the use of inadequate ventilation and building requirements. TM59 is a methodology for assessing these risks and sets criteria to follow for planning.
The majority of building designs may be enforced to be TM59 compliant to be passed off and have full permissions however, currently not every single commissioned residential property meets TM59, as buildings that fail to meet it can still be rented or sold. This is something we hope to see change as environmental law changes to conserve on pollution.
PART F – Building Regulations
Government building Regulations Part F is a specifically approved document on building ventilation. It stipulates the importance of ventilating increasingly airtight buildings.
The documentation states adequate ventilation must be provided to guard against internal moisture buildup which if not addressed can lead to poor airflow and become a hazard for health. Fresh air must be able to circulate continuously and with ease.
The Future
Climate change is a serious issue, one that is being tackled daily. With the regulations now being put in place and more being approved every day, we can try and help eliminate global warming where we can. By producing and expanding our residential range we have the environment at the forefront of our mission and want to do all we can to ensure TEK can provide a solution for noise pollution and overheating in any residential dwelling.
CONTACT US TODAY FOR MORE INFORMATION: